My last plasma speaker, which used only one mosfet, got a bit too hot to run without a bucket of ice water nearby. To cut down on that heat I decided to use a half bridge switch to drive the flyback this time. A half bridge is a topology that uses two mosfets that flip flop, each taking a turn conducting current. This reduces the load on the FETs during their switching times, and thus reduces the heat.
Below is a pictorial schematic of the device, and here is a regular schematic for the electrically inclined. For those that like instructables, here's one.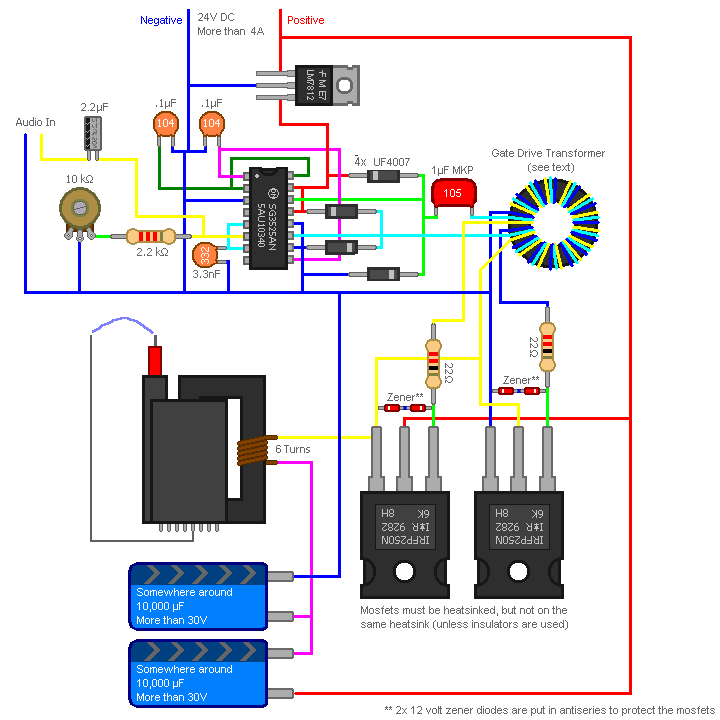 This circuit is considerably more complex than the other one, but it still uses the same principal:
By sending more current through an arc, you produce a hotter arc. Hotter arcs will have a higher pressure, and by varying the current through an arc you create varying pressures, something commonly known as sound.
Now this circuit uses PWM to accomplish that. By shortening the width of the pulses to the mosfet's gates you can reduce the current that flows through the flyback. By changing those pulses to the tune of music, the arc's current and pressure will vary in tune with the music, thus producing music! ∎
Some important notes about this circuit:
The 10kΩ pot still controls the frequency, and a lower frequency means higher voltage. The sweet spot was around 50kHz for my flyback, but it may be different for yours. It's a trivial matter to turn a knob though.
The 1uF cap must be either an MKP, mylar or foil cap. No electrolytics! Its function is to block excess DC current from flowing through the transformer, since capacitors block DC yet pass AC.
There is a gate drive transformer. What this does is provide an isolated gate drive for the upper mosfet preventing it from dying, and it is required for the circuit to work properly. A GDT is simple to make: all you do is take a bundle of 3 wires and wrap them around a ferrite toroid. I used 14 turns on a 2.5 centimeter toroid, but other designs may work better for you. Ferrite toroids can be bought for about a dollar online if you don't have one laying around.
The GDT must be phased correctly for this to work, otherwise your mosfets blow up. What is phasing you ask? Phasing is the direction of the coils in a transformer. For this to work, one of the coils on the mosfet side must be 'reversed'. On schematics phasing is marked by dots, and you can get a better picture of what's supposed to be done by looking here. A properly phased transformer looks like this on a scope; one wave is inverted.
Too loud a signal can and will overload the chip. When you put audio in, set the volume to 0 then slowly turn it up. When the music becomes distorted that's as loud as it's getting. It's not terribly loud, but it is still easily heard in a quiet room. You must have a clean audio source too, no electrical noise. I used my computer, and it would appear that iPods don't work too well. It's trial and error with the sources.
My speaker:
Youtube video of it playing some supertramp. It sounds much better in real life (more bass). Sorry Germany, UMG blocked the video in your country.