Along with a friend, I spent the evening with Woz today.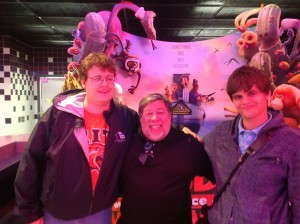 And to date, he is one of the very few I've met whom I feel, legitimately had the ability to teach me something new about electronic design. Somehow I imagine that's due to the same reason why I know the art of electronics myself; he's self-learned.
My few readers, I present to you the graphics system for the Apple II-e:
Yeah. I'm blown away. Truthfully, where else is one going to get the idea to bitbang analog NTSC signals out of digital hardware? Certainly not from anything learned in an EE curriculum. Rather, the idea, and the mind behind that one is nothing short of genius, and it's a shame my time with Steve was so brief.
However, in the hours we did have together, I learned one thing that I feel was very, very important:
I need a mentor.
It's Steve's belief that the main reason Apple was successful, was the guidance provided by Ronald Wayne –an electronics industry veteran that told Woz and Steve who to hire, how to market and how to not crash and burn a brand new startup into the ground. When you think about it, he's right. Look at Google: Sergey Brin and Larry page knew nothing about running a business; then they found Eric Schmidt. Meanwhile, eBay's success can largely be attributed to Meg Whitman, and Facebook's to the plethora of guidance that was given by investors to Zuck and his friends.
I need a god damn CEO.
But first, I need a prototype.
And before that, a hackerspace to build that prototype in.
Simultaneously, a kickstarter project to give me some development funds to play with.
We're working on that…